An Exquisite Bath Remodel From a Trusted Jacuzzi Bath Remodel Dealer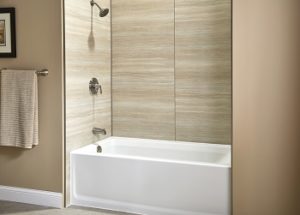 Is there an outdated bathtub in your home that has become deeply stained with age? Do you crave a gorgeous new tub where you can blissfully soak the cares of the day away? If so, turn to One Day Bath for a bath remodel. Based in Salt Lake City, Utah, and serving homeowners in surrounding cities, we're the home of the one-day bath remodel—a quick and affordable solution for revitalizing your bathing space.
Bathtubs From Jacuzzi
If a new bathtub is at the top of your home improvement to-do list, you'll love knowing that we specialize in installing replacement bathtubs from Jacuzzi®, a name synonymous with quality and luxury. Jacuzzi Bath Remodel tubs offer sophisticated styles that can elevate the appearance of any bathroom, and they're available with an array of hydrotherapy options for the ultimate in relaxation. Plus, bathtubs from Jacuzzi are designed to be easy to clean, ensuring they maintain their beautiful appearance long into the future.
Full Bathing Systems Installed by Seasoned Professionals
As part of our bath remodels, One Day Bath installs entire bathing systems, including fixtures and surrounds in addition to tubs. These accessories can be customized to your liking to provide a vibrant update for your bathroom. And we're committed to a swift turnaround, often completing our bath remodels in one day. Our technicians are company employees, not subcontractors, and we back our workmanship with a lifetime labor warranty. That's in addition to the lifetime product warranty from the manufacturer—an outstanding level of protection for your investment.
Schedule Your Consultation Today
At One Day Bath, we know you're eager to bask in a gorgeous new Jacuzzi bathtub, which is why we can schedule your in-home consultation on the same day or the day after you call us. We also provide financing options to make your bath remodel more affordable. So why wait another minute to get the new bathtub of your dreams? Contact One Day Bath today to get started. We're proud to serve homeowners in Salt Lake City, UT, and nearby cities.